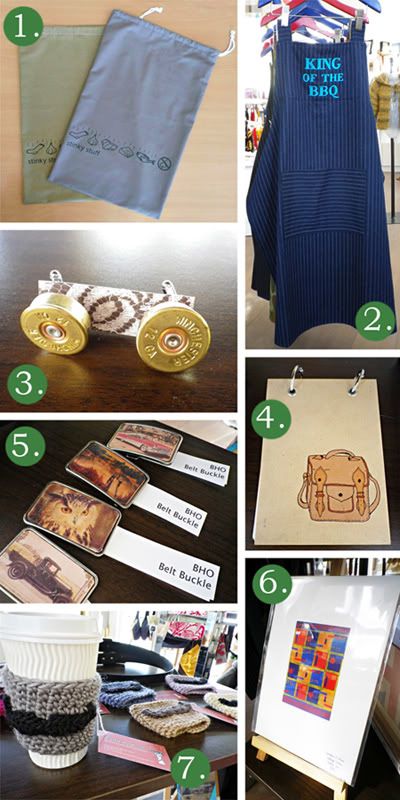 Father's Day is just around the corner (this coming Sunday 4th September)! Do some last minute shopping at Montage and get your dad some really unique gifts you know he'll love.
1. Stinky Stuff Laundry Bag by
Tall Rabbit
$25 - perfect size for travel.
2. King of the BBQ apron by
Neddy Nibbles
$40 - crown your dad with the rightful title.
3. Bullet casing cufflinks by
Osier
$35 - for when you dad wants to be dapper but with an edge of cool.
4. Satchel refillable notebook by
lorgie&me
$16 - to keep all those important notes in one place.
5. Leather and metal belt buckles by
BHO
$30 - give dad a reason to dress up.
6. Abstract art print by
iheartcharlie
$20 - dad is sure to like this bright and punchy piece of art.
7. Mustache coffee cozy by
Anna Hadwin
$15 - keeps your dad's takeaway coffee warm while giving some mustache inspiration.
There are heaps more gift ideas in store such as soap packs by Empire of Delight, hoodies and tshirts by inuk designs, and lots more so hop to it, come in and get your dad something a bit more special then a carton of beer :)